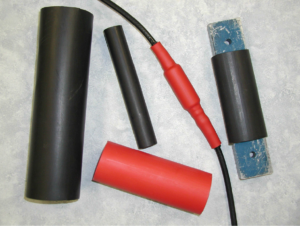 Product Number IP46MD
3:1 Shrink Polyolefin
Environmental protection
Mechanically Tough
More flexibility than heavy wall
---
Flexible jacketing with adhesive liner.
Medium Wall heat shrink tubing is a thermally stabilized, modified polyolefin, heat shrinkable tubing. It provides a simpler, more positive splice sealing method that offers greater protection under the most adverse environmental conditions. A relatively small number of sizes covers a large number of cable sizes because of the high shrink ratio.
Seals may be made over lead, steel, aluminum,copper, and all standard plastic and elastomeric insulating materials. The standard tubing is supplied with an adhesive to provide optimum water-proofing and environmental protection in submersible or direct buried applications.
This tubing can also be supplied in heavy wall (product #IP47HV) where a thicker wall is needed. Both tubings are rated for continuous operating temperature up to 90°C for non-pressurized cable systems.
AMS-DTL-23053/ 15 Class 2
(QPL product available upon request)
Dielectric Strength:

@ 150 mils 250 volts/mil

Tensile Strength:

2400 psi

Water Absorption:

0.2%

Solvent Resistance:

Excellent

Standard Length:

48″
Specifications:
| Order Size | Expanded Diameter | Recovered Diameter | Recovered Wall |
| --- | --- | --- | --- |
| 3/8″ | .400 | .150 | .080 |
| 3/4″ | .750 | .220 | .080 |
| 1″ | 1.100 | .375 | .080 |
| 1.3″ | 1.300 | .400 | .080 |
| 1-1/2″ | 1.500 | .500 | .080 |
| 1.7″ | 1.700 | .500 | .080 |
| 2″ | 2.000 | .750 | .080 |
| 2.75″ | 2.750 | 1.000 | .080 |
| 3.5″ | 3.500 | 1.180 | .095 |
| 4.7″ | 4.700 | 1.570 | .105 |
| 6.7″ | 6.700 | 2.300 | .110 |
| 9″ | 9.000 | 3.000 | .118 |