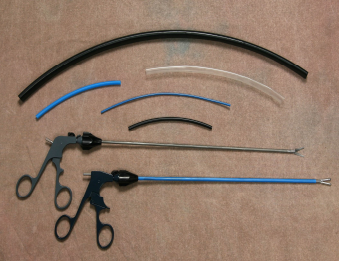 Product Number IP53MP
Economical Medical Grade Tubing
Meets USP Class VI
Resists a wide range of chemicals
---
Meets the most stringent medical application requirements
IP53MP is a flexible, heat shrinkable tubing with superior electrical properties and was developed to meet the most stringent medical application requirements.
Made from medical grade polyolefin, it has excellent dielectric, chemical and physical properties
Application of heat above 121°C will shrink this tubing quickly to 50% of its supplied diameter or snug down on the object it is to cover.
Resists a wide range of chemicals, such as hexachlorophene (pHisohex), saline solution, povidoneiodine (Betadine), benzalkonium (Zephiran), alcohol, as well as moisture and fungus.
USP XXII, NF XVII,
USP Class VI (Minimum)
Longitudinal Shrinkage:

5%

Autoclave Cycle Test:

20 cycles @ 121°c psig for 15 min. with fast dry cycle, followed by test for:
Volume Resistivity ASTMD257 @ 500 volts No Change from original
Dielectric Strength ASTMD149 In air @ 500 kv/min rise No Change from original
Dielectric Constant ASTMD150 @ 1 Mhz No Change from original
Dissipation Factor ASTMD150 @ 1 Mhz No Change from original

Temperature Rating:

continuous operation from -55°C to 121°C.

Standard Colors:

black, white, clear, blue
Specifications:
| Order Size | Expanded Diameter | Recovered Diameter | Recovered Wall |
| --- | --- | --- | --- |
| 3/32″ | .093″ | .046″ | .020″ |
| 1/8″ | .125″ | .062″ | .020″ |
| 3/16″ | .187″ | .093″ | .020″ |
| 1/4″ | .250″ | .125″ | .025″ |
| 3/8″ | .375″ | .187″ | .025″ |
| 1/2″ | .500″ | .250″ | .025″ |