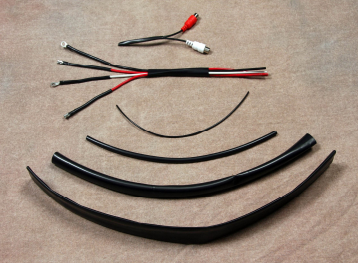 Product Number IP32IP
Excellent Abrasion Resistance
Highly Flame Retardant
Highly Flexible
U/L, CSA and MIL-SPEC
---
Excellent abrasion resistance
IP32IP provides excellent electrical insulation along with the lowest shrink temperature of any of our tubings. When high shrink temperatures can damage enclosed or adjacent components this tubing is the best choice. PVC tubing shrinks a full 50% quickly at 100°C.
Approximately 15% longitudinal shrinkage allows ripple free conformance around sharp bends to form a tight fitting insulation for most general applications with a high degree of flexibility.
Resists most chemicals and oils as well as sunlight, moisture and fungus.
Improved solder iron cut-through and abrasion resistance with outstanding dielectric and mechanical protection.
U/L Subject 224 VW-1
Rated for 600V
CSA, OFT
ASTM D 3150
AMS-DTL-23053/2 class 1 with the exception of longitudinal shrinkage
Longitudinal Shrinkage:

15%

Minimum Shrink Temperature:

Shrinks quickly at 100°C

Temperature Rating:

continuous operation from -20°C to 105°C.

Electrical:

1083 volts per mil.

Colors:

Black
Specifications:
| Order Size | Expanded Diameter | Recovered Diameter | Recovered Wall |
| --- | --- | --- | --- |
| 3/64″ | .046″ | .023″ | .020" |
| 1/16″ | .063″ | .031″ | .020" |
| 3/32″ | .093″ | .046″ | .025" |
| 1/8″ | .125″ | .062″ | .025" |
| 3/16″ | .187″ | .093″ | .025" |
| 1/4″ | .250″ | .125″ | .025" |
| 3/8″ | .375″ | .187″ | .028" |
| 1/2″ | .500″ | .250″ | .028" |
| 3/4″ | .750″ | .375″ | .033" |
| 1″ | 1.000″ | .500″ | .038" |
| 1-1/2″ | 1.500″ | .750″ | .043" |
| 2″ | 2.000″ | 1.000″ | .048″ |