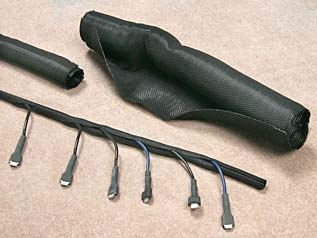 Product Number IP63ES
Self-wrapping design
Rated to 125°C
Ideal for reworking components without disconnecting them
---
Roundit® is a tough, light-weight, self-wrapping sleeving designed to allow for quick and easy application and removal. Made from a woven blend of polyester monofilaments and multifilaments in a flat weave construction gives Roundit a rugged yet smooth appearance.
This sleeving is perfect for applications where a product needs to be supplied that does not disturb the connector or fittings.
Roundit® 2000 sleeving is available as a standard U/L recognized product rated for 125°C. It can also be supplied with the added feature of flame retardance, EMI woven or Nomex.
Roundit® 2000 has many applications in the aeronautical, marine, electronic, furniture accessory and general manufacturing industries.
U/L Recognized
Rated for 125°C
Tough Fabric Texture
Melt Temp: 250°C
Available in different versions
Roundit should be tied at intervals if continuous temperature exceeds 110°C
Specifications:
Order Size
3/16″
5/16″
1/2″
3/4″
1"
1"
1-1/4″
1-1/2″