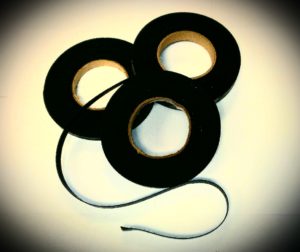 Product Number IP69HT
Tough, abrasion-resistant polyethylene with thick aggressive adhesive for areas where tubing can not be applied.
Heat shrinkable polyolefin tape is a primerless, heat shrinkable tape designed to insulate and seal areas, where tubing can not be used, for protection against moisture and corrosion. This unique tape permits quick and reliable installation without error by installers who have little experience working with heat shrink products. The shrinking action achieves exceptional conformation to contours, squeezing the adhesive into all surface irregularities, forming an effective seal..
Using a propane torch or heat gun, preheat the object to remove any moisture. This will assist flow-out and bonding of the adhesive. Spirally wrap tape, keeping snug at all times, with about a 20% overlap. Warm the ends first and press down firmly to secure. Start shrinking from the center, moving in a circular direction around the pipe at all times. As the tape shrinks, work towards the ends of the tape.
Standard Size:

3/4", 1", 1-1/2", 2", 3", 4", 6"

50′ Lengths:
Specifications:
Temperature Rating
-25°C to 60°C
Tape Tensile Strength
ASTM D-638
2,600 P.S.I.
Tape Elongation
ASTM D-638
600 P.S.I.
Adhesive Softening Point
ASTM E-28
76°C
Adhesive Peel Strength
10 P.S.I.
Adhesive Lap Shear Strength
25 P.S.I.
Low Temperature Flexibility
ASTM D-2671
-25°C
Water Absorption
ASTM D-570
0.15% after 24 hrs at 23°C
Volume Resistivity
ASTM D-257
1015 OHM-CM
Dielectric Breakdown
ASTM D-149
650 volts/mil
Tape Backing Thickness
.016″
Adhesive Thickness
.035″