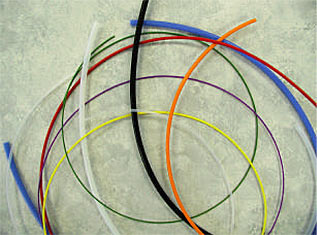 Product Number IP10EX
High Temperature
U/L recognized CSA certified
Low cost
---
A superior high dielectric strength 105°C PVC tubing
A high temperature extruded PVC tubing designed for electrical applications, general  purpose bundling, and many other uses. 105°C vinyl tubing is a low cost, flexible vinyl with excellent electrical, mechanical and thermal properties for applications up to 105°C. It carries Underwriters Laboratories recognition and is rated VW-1 along with Canadian Standards Association certification. This tubing is available with standard wall thickness shown below along with a .032" wall thickness in sizes #24 thru 1/2" on special order where 600V rating is needed.
U/L Subject 224 VW-1
CSA OFT
1000 Volts/ mil dielectric
MIL-I-631D Grade C
ASTM D 922
AMS 3631
QPL Approved
Colors:

black, white, red, yellow, and clear are standard.
Continuous operating temperature: -20°C to 105°C
Dielectric Strength: 750vpm – .021" sample
Cut pieces and markers are available, please contact us for a quotation.
Specifications:
| | | |
| --- | --- | --- |
| Order Size | Nominal I.D. | Wall |
| 24 | .022 | .012 |
| 22 | .027 | .012 |
| 20 | .034 | .016 |
| 18 | .042 | .016 |
| 16 | .053 | .016 |
| 15 | .059 | .016 |
| 14 | .066 | .016 |
| 13 | .076 | .016 |
| 12 | .085 | .016 |
| 11 | .095 | .016 |
| 10 | .106 | .016 |
| 9 | .118 | .020 |
| 8 | .133 | .020 |
| 7 | .148 | .020 |
| 6 | .166 | .020 |
| 5 (3/16″) | .186 | .020 |
| 4 | .208 | .020 |
| 3 | .234 | .020 |
| 2 | .263 | .020 |
| 1 | .294 | .020 |
| 0 | .330 | .020 |
| 5/16″ | .313 | .025 |
| 3/8 | .375 | .025 |
| 7/16 | .437 | .025 |
| 1/2 | .500 | .025 |
| 9/16″ | .563 | .030 |
| 5/8 | .625 | .030 |
| 3/4 | .750 | .035 |
| 7/8″ | .875 | .035 |
| 1″ | 1.000 | .035 |
| 1-1/8″ | 1.125 | .035 |
| 1-1/4″ | 1.250 | .040 |
| 1-3/8″ | 1.375 | .045 |
| 1-1/2″ | 1.500 | .045 |
| 1-3/4″ | 1.750 | .055 |
| 2″ | 2.000 | .060 |