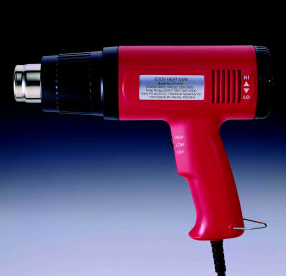 Product Number VT-1100
Variable Temperature
Two Speed Motor
Solid State
---
Shrinks any tubing with variable temperature
Our VT-1100 variable temperature heat gun allows the user to dial in the correct shrink temperature for whatever tubing is being used, from low temperature, sensitive PVCs, to high temperature, hard to shrink Teflon. Lightweight yet rugged, this gun can be used for every application from production lines to the occasional user.
Attachments are available for shrinking small diameter or large diameter tubing along with a pinpoint attachment to control heat to a selected point.
A larger bench to heat gun is available for production lines where continuous operation for extended periods is needed.
UL & CSA Approved
1200 Watts
120 VAC/10 Amp
Weighs only 1.6 lbs
Variable Temperature Control Dial
Temperature from 250°F – 1100°F
Solid State Construction
Two Speed Motor
High Quality Heat Element
Built in Safety Stand