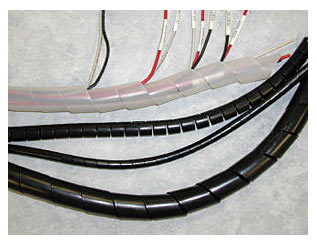 Product Number IP13SP
U/L recognized
Mil-Spec.
Standard and reverse cuts
---
Bundles wires and hoses firmly but allows flexibility
Spiral Wrap Tubing is an expandable spirally cut tubing designed to hold wire bundles firmly yet allows complete flexibility. Individual wires can enter or exit at any point on a long harness where many leads may be required.
Spiral Wrap allows removal for changes or repair and is easily reinstalled. This material offers more versatility than tape and is quicker to use than lacing tape or cable ties.
It is available in a wide variety of materials and colors to satisfy high temperature (up to 260oC), fire resistant (U/L 94V-0 & 94V-2) and U/V applications, plus color coding and identification.
Also available in polyethylene, U/V resistant polyethylene, fire retardant polyethylene, nylon and high-temperature PTFE for special applications.
Polyethylene:

Operating temperature: -76oC to 101oC Ford Spec. LP390 Mil-I-631D Mil-P-21922B

Nylon:

Operating temperature: -85oC to 93oC Mil-I-20693B Type 1 Mil-M-22096A Mil-M-19098

PTFE:

Operating temperature: -268oC to 260oC AMS 3651C, 3653C, 3654 & 3655 ASTM-D-3295 Mil-I-22129C Mil-T-47287A Type 1
Specifications:
| Order Size | Nominal O.D | Wall | Pitch |
| --- | --- | --- | --- |
| 1/8″ | .125″ | .032 | 3/16 |
| 3/16″ | .187″ | .030 | 1/4 |
| 1/4″ | .250″ | .045 | 3/8 |
| 3/8″ | .375″ | .052 | 7/16 |
| 1/2″ | .500″ | .062 | 9/16 |
| 5/8″ | .625″ | .313″ | .025″ |
| 3/4″ | .750″ | .065 | 3/4 |
| 1″ | 1.000″ | .080 | 1.00 |
| 1-1/4″ | 1.250″ | .090 | 1.25 |